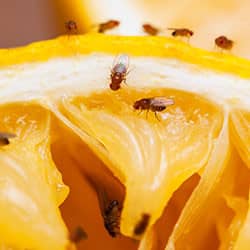 It is everyone's favorite time of the year again - a time for merry making and cookie baking. It is that special time of year when huge meals are shared and rooms are filled with laughter and fun as family and friends from all over gather to be together for Christmas. Now imagine sitting down with anticipation to the feast that you have probably spent days preparing and watching your guests waving their hands in front of their faces to shoo away the tiny little flies that have taken over your kitchen and dining room. Like most of us, you have put a lot of effort into getting ready for the holidays. Dealing with fruit flies is not the cherished memories you want your family to go home with.
Usually, fruit flies are a nuisance in the spring and summer; but inside your home, temperatures feel like summer, so fruit flies are more than happy to spend Christmas with you. These pests lay their eggs inside over ripened fruit and quite likely found their way into your home that way. This time of the year, our homes are typically bursting with extra food, especially sweets and fruits. All create the perfect environment for these unexpected guests.
In order to get rid of these pests you must first bag up all of your over ripened fruit and toss it out. Make sure the bag goes outside to the trash cans, not inside. Store any food that you are not throwing out in airtight containers or in the fridge. Even a bad potato in the bottom of the storage bin might be responsible for your current infestation. Next, you will want to make sure that any bottles and cans are removed as well. Fruit flies are attracted to anything sweet for a spot to lay their eggs, and that trace amount of soda or wine will be just the ticket for them. Always make sure that dishes get washed. Dessert plates and drinking glasses that contained wine, soda, or juice are especially interesting to a fruit fly. Make sure your kitchen is clean. Any stray food particle might be the source of your problem so be very thorough as you go about this task.
There are a few home remedies that can effectively trap fruit flies. Apple cider vinegar attracts them. In our family, we were always told to put a drop of dish liquid in with it. These traps will attract and kill some of them, but fruit flies multiply very quickly; and if you cannot find the source, you will be battling them long after the season is over. Don't wait. Give Moyer Pest Control a call. The home pest control professionals here at Moyer can be at your door in no time to help you identify the source of your problem and take care of it. With Moyer on your side, you can get back to making memories with your family before you can say, "Merry Christmas".
With service available in Telford, West Chester, and Allentown as well as throughout our Pennsylvania service area, please contact Moyer today!