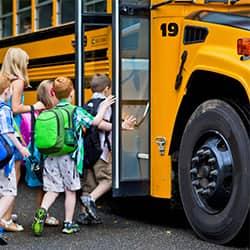 Summer is nearing its end, and the kids are heading back to school. Whether you stayed local all summer or went off for an adventure on vacation, part of you is probably looking forward to the routine that ensues with the return to school. What you probably aren't looking forward to is a bed bug infestation. Unfortunately, this time of year is a big one for new outbreaks. Here's how Souderton parents can prevent back-to-school bed bugs.
Why Back to School Time is Often Bed Bug Time
Although bed bugs are a factor year-round, they go through seasons of high activity. Bed bugs love hot, humid weather, which makes summer their busiest time. Summer is also the time of year for family travel. Since bed bugs primarily move from place to place by 'hitchhiking' on people's clothing and bags, summer is the prime time for bed bugs to spread themselves around.
If, for instance, you stay in an infested hotel room while on vacation in Arizona, you may end up bringing some Grand Canyon bed bugs back to Pennsylvania with you. Now imagine the millions of travelers across the country each summer, and you can understand how bed bugs spread. But how does that relate to back to school time?
Once fall arrives and summer travel slows, bed bugs start to settle into their new surroundings. If someone in your child's class has a new bed bug infestation in their home, they may unknowingly bring bed bugs to school with them. These bugs can move from their belongings to your child's belongings, and before you know it, you have a bed bug infestation too.
How to Prevent Bed Bugs From Entering Your Home
We'd love to tell you that there is a simple way to prevent bed bugs, but unfortunately, there's not. They often go unnoticed on clothing or in bags. The best way to avoid them is to inspect these things every time someone wants to enter your house. While this is possible some of the time, it's simply not practical all the time.
Your best bet is to check your child over as often as possible and to do frequent checks for signs of bed bugs in your home. If you think you see any, it's imperative to call Moyer Pest Control immediately. The sooner you treat a bed bug problem, the easier and less costly it is. Regardless of the size of your bed bug infestation, Moyer can handle it. Contact us to learn more about our services.