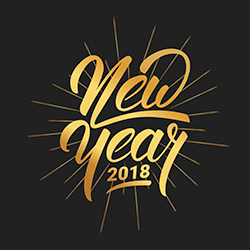 What do you expect to see on New Year's Eve? Whether you enjoy the passing of another year from the comfort of your living room, or you go to an outdoor celebration, there is a good chance you're going to see fireworks, people singing, streamers, balloons, tasty food, and other festive things. What do you expect to see the next day? That will also depend on how you spent your New Year's Eve. If you have your celebration in your home, you might see dishes stacked next to your sink, decorations that need to be taken down, party favors lying on the floor, and other things that need to be cleaned up. Hopefully, household pests will not be one of the things you see. If spiders, mice, millipedes, silverfish, cockroaches, centipedes, ants, and other pests are common in your home, here is a quick guide to help keep them out of your home in 2018.
How To Control Pests 100%
Pests come into your yard in search of food sources. Reducing these will help you reduce the number of pests that get into your home. What we consider to be food is not necessarily what pests see as food. Bugs and animals will dine on trash in your exterior trash cans, so be sure to keep them sealed and secure. Pests will feed on other pests. Reducing flies will reduce spiders, and so on.

Some pests eat plants. The more plants you have the more pests you'll have.

There are some food sources you can't protect or remove. Insects, like the termite, will come into your yard to feed on your home. The only way to prevent this is with a pest control plan.

Pests come into your yard in search of harborage. Pests will hide in a woodpile, construction materials, appliances stored behind your home, toys left out by children, leaf piles, overgrowth of vegetation, and any objects that have recesses and hiding places. Reducing these will reduce pests.

Pests come into your yard for moisture. There are many bugs that require moisture to live. If you have moist conditions near your foundation walls, you'll have more bugs searching for holes to exploit.

After reducing pests, it is important to seal your walls and foundation as best you can.

No pest barrier is complete without targeted treatments of EPA-approved insecticides and baits. For this, it is a good idea to hire a pest expert.
Make 2018 the year you decided to make your home pest-free. If you're in our West Chester or Pennsylvania service area, reach out to Moyer Pest Control. Together, we can make your home a bug-free zone. And we back this promise with a 100% customer satisfaction guarantee. What do you have to lose but bugs? Let's get started today.
Happy New Year from the pest experts here at Moyer Pest Control!