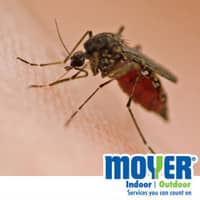 A nice evening on the deck seems like just the ticket after a long day of work or running errands. Unfortunately, those plans are likely to be short lived if you consider mosquito activity. Yes, these pests are relentless and often drive us indoors in search of relief from the continuous buzzing and bites.
With the warm weather season is upon us, mosquitoes are not going to let up anytime soon. And if you are already experiencing mosquito problems on your property due to the early start of spring, you could be in for a long spring and summer with these pests. In order to help control the masses of mosquitoes on your property, you can follow these mosquito prevention tips from Moyer's pest control professionals:
Remove any standing, stagnant water from your property, which is where mosquitoes breed. This includes flower pots, gutters, garbage cans, ditches, fountains, and ponds. Anywhere water is collecting will contribute to the hundreds of thousands of mosquitoes that are born each day.
Screens are a great barrier to keep to the mosquitoes out. A screened in porch is a great alternative to still enjoy the feeling of the outdoors, but completely protected from any mosquitoes. Also, check that your home has screens in all of the windows and doors before you open them up to let the fresh breeze flow through.
If you are going to be outside in an area that has a lot of mosquito action make sure you are dressed properly and consider using an insect repellent. Long pants and long sleeves will help to cover your skin from their piercing bites. Also, consider a mosquito head net if you are going to be outside in the mosquito masses for an extended period of time.
Even more than avoiding the annoyance of mosquitoes is to avoid their bites. Mosquitoes can carry harmful diseases and transmit them to whichever one of us they can find first to feed on. It is important to follow the tips above to avoid mosquitoes so that you can stay healthy and have a more pleasant spring and summer season. The mosquitoes aren't going to disappear so it's up to us to find ways to work around them.
Moyer Indoor | Outdoor provides effective pest control solutions for those in Allentown, Souderton and throughout Pennsylvania. If you would like more information on mosquito control as well as our other home pest services, please contact us today.