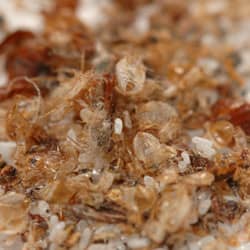 By now you have probably heard that bed bugs are a serious problem. These blood-eating pests are being found in practically every nook and cranny of the country. And, now more than ever, it is vital to learn how to prevent a bed bug infestation. Make your 2017 resolution be to read down through this quick list of bed bug facts.
Things You May Not Know About Bed Bugs
When a bed bug hatches from its egg, it is about the size of the tip on a pen, and almost completely transparent. That makes this bug extremely hard to see. But, you may see it if it is feeding on your skin. Your blood will make a bed bug larvae bright red as its abdomen fills. If you see a tiny, bright red bug on your skin, you should definitely take a closer look and see if it has six legs. Properly identifying a bed bug can alert you to an infestation and help you to take the needed precautions that will prevent them from coming home with you.

Bed bugs leave feces everywhere they go. They will also leave feces in areas of infestation. If you see black streaks or patches of black on the back of a bus seat, on a taxicab seat, on a movie theater cushion, on a couch at a friend's house, or any other piece of upholstered furniture, in any other location, take a closer look. Bed bugs can live anywhere they can get a blood meal. Recognizing their feces can alert you to the danger.

Bed bugs leave blood stains. These bugs don't just leave their feces. They may also excrete blood with their excrement. It may sound disgusting, but this is an important fact to understand. If you see blood stains on a sheet or pillowcase, especially if it has black mixed in, it is important to recognize this as a sign of a bed bug infestation. Look for this sign when you travel, and any time you spend the night at the home of a friend or family member. Make sure your children know to look for signs as well. It could prevent them from bringing bed bugs home.

Bed bugs can feed on people night or day, summer or winter, sleep or awake. For this reason, these bugs can infest any place where humans sleep, lounge, or sit. Be on the lookout when traveling, when going to work, and even when visiting a neighbor's house or apartment. Recognizing bed bugs and the signs they leave is the number one way to prevent an infestation.
If an infestation takes root in your home, call a bed bug expert like Moyer Pest Control to have those bugs eradicated. Doing these things can help you to have a bed bug free 2017.
Happy New Year, from all of us at Moyer Indoor | Outdoor. May 2017 be the best year ever!