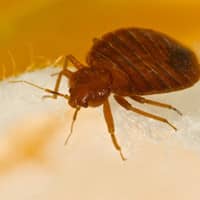 With awareness of bed bugs spreading far and wide, businesses need to be prepared in the event of a bed bug outbreak. Especially for hotels and rental properties, a bed bug response plan is necessary and could even save your business in any court cases. Unfortunately, bed bugs prove to leave those affected with much anxiety and post-traumatic stress, which is not good if it happens at your business. According to the Risk and Insurance Management Society, a bed bug response plan consists of several elements and as judges are cracking down on bed bug lawsuits, it is important for your business to clearly outline a plan of action if bed bugs do make their way into your business. Moyer Indoor | Outdoor would like to offer a few tips from the Risk Management professionals, for businesses in our Pennsylvania service area to create their own bed bug response plan.
Proper training for all employees who would be the ones to inspect rooms for bed bugs such as cleaning or maintenance staff. There are clear signs that can be seen by the naked eye in the event of an infestation and it just takes a little education to know what to look out for.

A detailed response plan so that if an employee does spot a bed bug problem, they know exactly what their next step should be to have the problem eradicated.

A proper quarantine process since bed bugs can spread easily. Wherever an infestation is spotted, the room must be properly blocked off in order to prevent further spread of the issue.

Have employees sign a confidentiality pledge that they will follow proper protocol with the response plan so that they do not risk saying or acting in a way that may be used against them if a lawsuit did happen to proceed.

Create a relationship with a professional pest control company that will be at your service and quickly, in the event of a bed bug infestation.

Consider insurance plans that would help to protect you and your business in the event of a bed bug infestation and/or lawsuit from a bed bug infestation.

Hire the legal professionals who have knowledge and education in such cases as bed bug infestations in businesses. You want to prepared, just in case.
By following these steps, your business will be in good shape in the unfavorable event of a bed bug sighting. The best way to prevent any legal cases is to prevent any infestations from occurring in the first place and that starts with proper bed bug protection services. If your business is in the Bethlehem, Lehigh, or other Pennsylvania service areas and you would like information on Moyer's effective bed bug treatments, contact us today. It is important that your business is ready to win the bed bug battle and with the help of the PA pest control experts, you will be on your way to a peace of mind that you are protected from any bed bug problems.