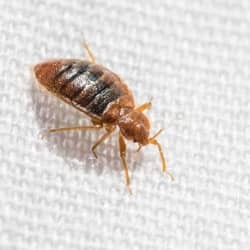 Spring is in the air! It's already starting to warm up and soon it will be gorgeous outside. Plants will begin to bloom, the sun will warm things up, and it will be time to start spring cleaning. Won't it be nice to let the fresh air into our homes?
In addition to all of the great things to look forward to in the spring, we have to also be aware of the increases and decreases in pest activity around our homes. Some pests that have overwintered will head back outdoors, but many will start to grow in numbers. There is one particular pest that will be totally unaffected by the weather and will stick around all year long.
Bed bugs are a year-round pest that will haunt you in the evening, especially in your bed. These little guys are so tiny you may never actually see them. They do not cause any illnesses, but they live on the blood of humans and can leave an itchy rash or welts on the skin. Bed bugs are hearty little pests that can live up to a year without a blood meal and can withstand extreme cold and heat; not to mention that they can hide really well, which is why they are so hard to get rid of. If a bed bug infestation is not treated, they will continue to increase in numbers and that can lead to stress, lack of sleep, a lot of discomfort, and itching.
You can tell that you have an infestation if you or others in your home are experiencing tiny bites at night. You may also find tiny rust looking stains on your pajamas or bedding from fecal matter. Another sign to look for are cast/shed bed bug exoskeletons or bed bug carcasses in sofa creases, under beds, on bed frames, or in the creases of bedding. Even if you don't see any signs, you may want to have an inspection to find out for sure and take precautionary measures to prevent an infestation in the future.
If you are looking for a solution for your bed bug problem in the Pennsylvania area, you can find professional, industry-leading bed bug solutions with Moyer Pest Control. Our experienced technicians can inspect and confirm an infestation before treating, and we can target the solution to areas that need treatment. You don't need to worry about a thing; our treatment plan will get rid of all bed bugs in your home, regardless of how big or how small your infestation is.
We offer a K9 inspection service that can detect and target bed bugs more efficiently and effectively to combat infestations quickly and accurately.
Moyer Pest Control is a leading Pennsylvania pest control company. Our professionals are aware of all local pest issues and are trained to treat all types of infestations. We are readily available to solve all of your pest problems. Give us a call today, and we can take on even the toughest infestations.