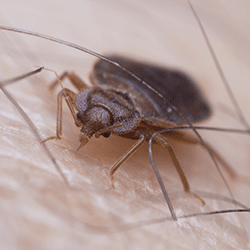 With a recent rise in bed bugs, information about them is abundant. You can certainly read about all of the problems that bed bugs present without having to look too hard, but there a consolation. As big of an issue and problem as bed bugs are, they are not known to carry or transmit disease. That's certainly good news, but this doesn't mean that bed bugs aren't a serious problem to face when you come across them in your home.
Bed bugs make for a very frustrating infestation. The simple fact that you could have bugs intruding on your life is, of course, the biggest problem initially, and avoiding coming across them can be quite hard. Bed bugs are hard to detect! Due to their small size, when you set your coat down in a store, or your bag down on public transit, they can climb on and you may not ever know until it's too late. Of course it is worth checking before putting any personal belongings down or taking a seat when out in public, but unfortunately, because they are so hard to detect, simply being aware of the possibility of bed bugs is not foolproof.
These pests are also known to be extremely resilient. Because of this, they are hard to eradicate completely. Much of a bed bug infestation is hidden within walls, cracks, and crevices that many of you may never see. They can also hide within furniture including mattresses and couches, along stitching and seams, and under rugs and clutter. Using DIY methods often fails because the product never actually reaches the bugs themselves. DIY methods may be effective on the bed bugs in plain sight, but if you don't get each and every one of them, the infestation is likely to return. Also, when using DIY methods, they can be very dangerous to your family and pets if misused. Your best option when it comes to bed bugs is to call professional pest control.
Did you know that bed bugs are not attracted to dirt and filth? That's right, keeping your house spotless does not make you immune to bed bugs. These pests are constantly on the move until they find the one thing that attracts them most… a meal! A blood meal to be exact, so if you end up with bed bugs, it does not mean you need to clean or that cleaning will get rid of them.
Professional pest control, in the end, will save you a lot of time, money, and hassle. The methods we use here at Moyer Pest Control are fast, efficient, contained, and safe. To start, we use bed bug detection canines to seek out the problem. With the canines' scent, they can detect bed bugs in all of the hidden places including behind walls and under rugs. Bed bug detection canines are far more efficient than humans, faster, and leave little to no impact on your home while conducting the search, ultimately saving you money. Once we have successfully located the pests, we employ a heat treatment method. Using portable heaters, we bring the air in the room up to a temperature that is proven to kill all stages of bed bug life. Bed bugs have been known to be able to withstand temperatures from near freezing up to 113F, so your portable space heater won't do the trick. With our proven method, the heat has the ability to penetrate spaces that are hidden from the naked eye. It is effective in penetrating walls, clutter, and furniture. Also, by using heat treatments, we can contain the service to the infested room and since there is no danger to you, you don't even need to leave the house! Heat treatments are so effective that most infestations need only one treatment, and it can often be completed within one day! With these techniques, your house will be free of bed bugs in no time, so don't wait, reach out today.
Here at Moyer Pest Control, we understand that every infestation is unique. If you are curious about how we can help your house, call us today and we will be happy to help!