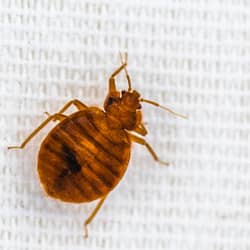 The National Pest Management Association (NPMA) does a survey of the pest control industry every two years to track the spread of bed bugs, and their findings show a disturbing trend. Let's take a look at their figures and examine the root of the problem.
Bed bugs are being found in more than just hotels and motels.
While 74% of infestations reported by pest companies were encountered in hotels and motels, 26% were found in a wide range of places you would not expect, such as nursing homes, daycare centers, movies theaters, hospitals, retails stores, and office buildings.
Bed bugs are on the rise.
The occurrence of bed bugs has increased across the board. Here are the figures given by the NPMA:
Nursing homes – 58 percent (46 percent in 2013)

Office buildings – 45 percent (36 percent in 2013)

Schools and daycare centers – 43 percent (41 percent in 2013)

Hospitals – 36 percent (33 percent in 2013)

Doctor's offices/outpatient facilities – 33 percent (26 percent in 2013)

Transportation (train/bus/taxi) – 29 percent (21 percent in 2013)

Retail stores – 20 percent (15 percent in 2013)

Movie theaters – 16 percent (10 percent in 2013)
Why are bed bugs on the rise?
The answer to this question is actually a simple one. Most people don't understand these bugs. And, this lack of understanding is actually making the problem worse. When people throw out infested items, they infest other people. When bed bugs aren't recognized, they are accidentally picked up and brought home. When travelers stay somewhere nice, they don't think they can get bed bugs. (But these pests can be in the cleanest places) And who thinks about getting bed bugs in a taxi cab, bus, or train?
Another major contributing factor is improper bed bug control. People don't understand that these pests have been living exclusively with humans since the dawn of time. They know how to avoid our attempts to purge them.
What is the solution for bed bugs?
Proactive bed bug detection is the key to stopping the spread of these blood-eating pests. Learn to recognize bed bugs or the signs of bed bugs, when you see them. Be aware of all the places bed bugs can be found. And, consider getting routine K9 bed bug inspections for your home or business. Dogs are the front line defense against these hitchhiking pests. They have an incredible sense of smell that is almost like x-ray vision. They have been used for years to detect drugs, ammunition, explosives, and other hidden items. Now, they're helping the pest control industry with bed bugs.
Don't let bed bugs take root in your home or business. Let Moyer Pest Control keep you safe with proactive bed bug detection.