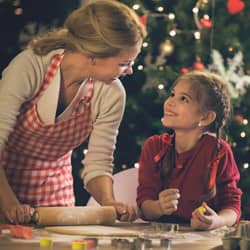 The time has come to pull out your special Christmas recipes that your family and friends are counting on as either gifts or to be served at gatherings over the holidays. They absolutely adore those lovely delicacies that you put so much love and time into making each year. Maybe you'll make some new treats this year, but no matter what you plan to create, you will need to know what ingredients you need. Double check each recipe and search your kitchen or pantry shelves for everything you will need. You will want to do that ahead of time – at least a day or two before your actual baking day. Some of those ingredients you haven't used for a while could be out of date, damaged by moisture, or perhaps contaminated by unwanted hungry pests like Indian meal moths, beetles, and other insects. Rodents can also be a huge problem in your pantry and may have caused damaged to long-stored goods.

Pantry pests are just looking for a free meal, and they help themselves to the food on your shelves or even to your pet food or birdseed. You may find bugs, droppings, and remains in and around your food (especially dry food like cereal and flour) and paper or cardboard packaging may have holes. Any food that you find in your pantry that has been contaminated will need to be thrown away and containers, counters, and shelving sanitized. Some pests carry dangerous diseases that can make you and your family sick. You must make sure you get rid of all pests from your home and keep them away. DIY solutions can be costly, time-consuming, messy, and even dangerous. This is where a professional pest control service with experienced technicians come in handy.

Most likely your pantry pests have entered your home inside items you purchased that were already contaminated. They may have entered through cracks and crevices in and around your home including around window and door frames. They may have also snuck in through a vent or damaged screen. They then will find tiny openings in your food packaging and dive right in. You can try sealing up all cracks and crevices in your home. This, however, can be time-consuming, and you may not be able to find all the entry points. Another good idea is to keep all food stored in airtight containers. You should also clean up food spills right away as not to attract pests. The best tip, though, for preventing pests and the destruction they can cause is to contact the professional technicians at Moyer Pest Control. Our highly trained and trusted experts will give you peace of mind, a pest-free home, and especially a pest-free pantry. Once all of the pests are gone, let the holiday baking begin; and with a year-round pest control plan from Moyer, you can be sure pests will not be a problem next year.