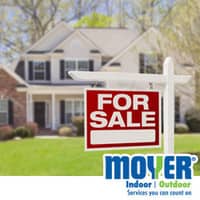 When buying a house there is typically a checklist of criteria that one has that it must meet. At Moyer Indoor | Outdoor we don't want you to forget to add a bed bug free home to that list! In many states, sellers are not legally required to disclose information about bed bug exposure to the property. As the buyer, you are relying solely on the integrity and honesty of the seller. The best way to avoid buying a home, apartment or condo that has bed bugs in it is to have a professional pest control company do a thorough pre-purchase bed bug inspection.
For decades bed bugs were almost non existent. Post WW2 era advancements in DDT and insecticides helped to all but eliminate them. Pest Control Professionals were reporting that the average service calls that involved bed bugs prior to 2004 were an average of two calls per year. Between 2004 and 2008 the calls grew from 10 calls a week to 50 calls per week involving bed bugs. This increase in bed bug activity is thought to be result of more frequent international travel.
Bed bugs have been found in upscale homes, poverty stricken apartments, residential facilities, like nursing homes and dorms, and just about every other living establishment in between. Their presence is in no way a reflection of cleanliness on the inhabitants or the building. Catching a ride with an unsuspecting traveler is a bed bug's most frequent mode of travel. These pests will travel on clothing, suitcases, pillows, and shoes, just to name a few. Going months without food doesn't slow these bugs down as they have been known to go up to a year without eating.
Bed bugs can leave signs of their presence, including: red, itchy welts on the skin, shed bed bug skins and even dried blood spots on linens. During the day they hide inside crevices in walls, bed frames, furniture and other dark hiding spots. At night they come out to find food; often times your blood. Professional Pest Control services know what to look for and have many different ways to confidently verify or deny the existence of bed bugs.
Don't share your next home with these unwanted house guests! At Moyer we offer home pest control services as well as bed bug control services for existing bed bug issues. Call Moyer Pest Control and let us inspect your prospective Philadelphia home!