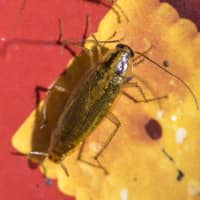 Baking is hard, isn't it? For some, it's a second job. As the holidays approach, your making out lists for crackers, crumbs, chips, jams, powdered milks--and soy for your lactose intolerant family members--and an assortment of extracts, flours, nuts, and seeds. You'll be filling your cart to the brim with pantry products, preparing your mind and marking your calendar, as you plot out which desserts must be made first, and which can wait till later. And, on top of everything else, you'll claw through the cupboards, shelves, and pantry to find the expired items, so that everything will be available when it is time to bake. The last thing you need is to find a cockroach hiding behind some seed, or tucked in some flour. Besides the possible heart attack that comes with finding these nasty little buggers, there is the mental trauma of having--yet another thing to worry about. Well, relax. I have some pre-baking tips that will set the stage for the best season of baking, ever.
Do a check. Start by making a thorough check of all your current pantry items. Look for any holes, tears, or chew marks in paper and cardboard food containers. Dispose of any suspect items.

Pull everything off the shelves, and clean your pantry thoroughly.

Have your pantry sealed. If there are any holes in your walls or near the baseboard, use a caulking gun to fill them. It is actually easier than you think.

Check all your expiration dates, and remove items that have expired.

Add expired items to your shopping list, so you don't find yourself without these ingredients when it is time to bake.

If you're able, put any food that comes in a bag or cardboard container, into hard plastic containers--even dry pet food. Not only will this keep roaches from smelling your food, and digging through your walls to get at it, it will keep them from burrowing into your food. It is also a great way to keep food supplies fresh longer.

Once your pantry is clean, and fresh, be sure to keep it that way. Always check paper and cardboard containers at the grocery store, and never bring boxes or bags into your pantry. Roaches are notorious for hitchhiking.

Install a door sweep on the bottom of the pantry door. This will keep roaches from crawling under.

Have the exterior of your home sealed. Use a caulking gun on those outside holes, like you did on the holes in your pantry. Check all your door and window screens. Inspect door sweeps and weather stripping. And have a pest control technician advise you on exclusion methods specific to your situation.
With proper exclusion, extra effort at checking expiration dates, and keeping your pantry well ventilated and clean, you'll keep cockroaches from targeting your baking goods. That is a recipe for peace of mind. For added protection, have a pest company do a light and focus spray of your perimeter. After going through all this trouble to protect your pantry, why not keep roaches out of your entire house? It doesn't cost nearly as much as you think, and it is safe for your pets and children. Baking is stressful enough without roaches wrecking your holiday plans. Start fighting back today.