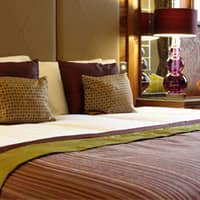 Are there really bed bugs in West Chester? Yes. Bed bugs are everywhere. They have been around since the dawn of time. The ancient Romans called them Cimex lectularius, meaning, bug that lives in the bed or couch. Here in the United States we just call them bed bugs.
Not every bug that crawls into your bed with you is a bed bug. Bed bugs are a specific species of insect that prefers cozy, warm, and dirty environments. But they aren't too choosy. They only live about six months so they don't take long deciding on what place they'll settle in. When it comes right down to it, bed bugs have only one real criteria: there must be food. Since your blood is their food source, they'll be happy to live in your home, no matter how clean it is.
How do bed bugs spread?
Bed bugs travel with humans. They get into luggage, bags and clothing, or lay their eggs in those things. Unlike a chicken, females bed bugs do not have to be around for eggs to hatch. If you are unfortunate enough to carry bed bugs back to your West Chester home, you could be infested in a few short months.
Here is a checklist to prevent bed bugs from returning home with you.
Always check bedbugregistry.com before you travel. You can find out if your accommodations have had a bed bug report done on them. This isn't a fail-proof system, and sometimes the reports can be bias because they are written from the perspective of the guests. If your accommodations have a bad review, consider calling the manager and asking about how they deal with bed bugs.

When you arrive at your destination, try to leave your bag in the car until you have checked your room. If you must bring your bags, put them in the bathroom on the tiled floor.

Pull down the bed spreads on all the beds and search for tiny brown seed-like bugs.

Inspect sheets and pillowcases for dark brown blood stains. Bed bugs sometimes drip after they have had a blood meal.

Pull the sheets up and examine the seams and corners of all box springs and mattresses. If you find sticky black residue, report it to the management. This could be bed bug feces.

Use a flashlight to search the backboard and inspect all upholstered furniture in the room.

During your stay, keep clothes off the floor and refrain from draping them over a chair or couch.

You might consider taking the extra precaution of putting all your bags in sealed plastic bags.

When it is time to go home, check the seams of your bags with your flashlight. This is where bed bugs like to hide.

When you return home, wash and dry all your clothing on the hottest setting. This kills adult bed bugs, larvae, and eggs.
If you have recently returned from a trip, and did not check for bed bugs, you should give Moyer a call. With their K9 inspections, you can find bed bugs before they have a chance to plague your family and ruin your reputation. A single female bed bug can have over 4,000 babies in her short lifetime, and it only takes thirty days for bed bugs to grow to mating age. These bugs multiply fast. Get your West Chester home protected today.