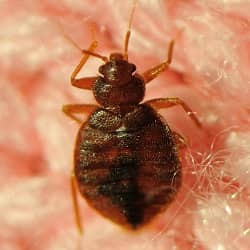 There are a lot of bugs that can get into our homes in fall and winter. Some of them, like lady bugs, stink bugs, and boxelder bugs, don't prefer to be in our homes. There are too few food resources for them to thrive. So, when spring arrives, those bugs are going to fly the coup. But there are some pests that do not go anywhere when the warm temperatures return. One of those bugs is the bed bug.
Your home contains all the food a bed bug could ever want because your home contains you. Bed bugs are blood eaters. They need blood to live, and they need blood to increase their populations. That is why these critters live almost exclusively with humans.
If you picked up bed bugs this fall or winter, you have a population growing inside your home. And, while bed bugs are not generally affected by the cold weather of winter--because they are an inside pest--they can be affected by spring and summer, under certain conditions.
In the winter, we keep our homes warm. There are very few people who don't. But, spring and summer are different. Some people keep their homes cool during these months with air conditioning units, heat pumps, or some other cooling system. Some don't. If you're in the "some don't" category, bed bugs will definitely take notice.
While these pests can increase their populations quickly no matter what season it is, when it gets warm and humid, bed bugs multiply faster. If you're sitting in your living room sweating, you can be sure that bed bugs are as cozy as a bug in a rug, except they are in your bed. They love the heat...well, to a point. Heat is actually one of the most effective ways to exterminate bed bugs. But to kill a bed bug, it must have its temperature raised to above 115 degrees Fahrenheit for several minutes. If it is 115 degrees in your house, you're going to be doing more than sweat.
If you have bed bugs in your home this spring, you can bet that those bugs aren't leaving. You can also bet that they're going to be reproducing quickly, whether you have a cooling system or not. That makes spring the perfect time of year to get a bed bug inspection. At Moyer Pest Control, we offer fast, easy bed bug inspections in our Pennsylvania service area with K-9 bug inspectors.
Get those bed bugs before they get you, with proactive bed bug detection services from Moyer Pest Control. No season is ever a good season to be bitten by bed bugs.