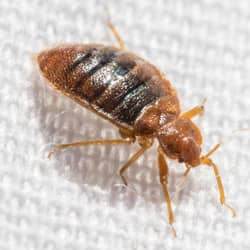 There are many options available when it comes time to decide where you want to live during your retirement. For some, it is ideal to leave the frustrations of maintaining a property to live in something more manageable, or to leave isolation and become part of a community. Senior housing can be a great move for many.
It is important to understand that bed bugs are a growing problem everywhere, and it is even more of a problem for smaller or closer living quarters like those offered for seniors. We have put together a quick checklist of things you can do that will protect you from these traumatizing and costly pests.
Before you decide on where you will spend your Golden Years, be sure to check bedbugregistry.com to see if the facility you are considering has had bed bugs reported.

Before you move in, have someone check your new apartment or room for bed bugs. Have them look for black patches on mattresses and upholstered furniture, especially in the creases or on stitching. Have them look for black streaks on baseboards, outlet covers, and all hard wood surfaces. Bed bugs leave blood staining on pillowcases and sheets, and shed casings anywhere they go.

Before you move in, ask whether or not the mattresses, box springs, and pillows have special encasements to protect from bed bugs. If they do not, it is a good idea to get these encasements on your own.

All it takes is a single bed bug or a batch of eggs to start an infestation. If there is a communal laundry area in your facility or housing area, getting an anti-bedbug laundry bag can prevent you from bringing these bugs back to your room or apartment. These can be found online or in some local department stores.

If your bed has a wood frame, consider getting a metal frame. This will make it harder for bed bugs to crawl up.

Get to know what these bugs look like. Proper identification of bed bugs, and the signs they leave behind will help you to respond to them faster.

Be aware that bed bugs, especially adult bugs, will leave rashy welts that look like mosquito bites. When these bites appear, seek assistance immediately.

If you have to move between rooms or apartments, ask to take your mattresses with you and swap it with the one in the new room.
Bed bugs can be traumatizing. If you discover these bugs in Pennsylvania, give us a call. At Moyer, we use the most advanced bed bug methods and products to safely, quickly, and discreetly eradicate these pests.