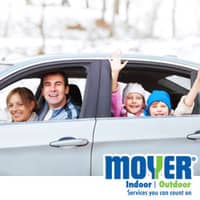 Will you be hitting the road this Thanksgiving? According to a survey conducted by TripAdvisor®, Americans will be traveling more for Thanksgiving this year than last year, so you won't be alone! But with an increase in travel, people should be aware about the potential spread of bed bugs. These pests are great hitchhikers so if you come across them in your hotel or a taxi, airplane or bus, you may unknowingly pick them up and bring them with you on your travels. Eventually, you may end up bringing these bugs home with you, so it's wise to be wary of the signs of bed bugs to help prevent introducing a bed bug infestation into your own place.
To avoid bringing bed bugs home after your holiday travels, be aware of these signs:
Bed bugs leave little brown spots on bedding, upholstered furniture, curtains and even luggage. If you notice little reddish-brown bed bug fecal spots while travelling, you can be sure that bed bugs have been in the vicinity at some point and your luggage (and even the clothing on your body) may have been exposed, so it would be wise to have your belongings inspected for bed bugs before returning home.

Noticing bed bug bites on your skin can be a good sign that you've had a visit from these pests. Bed bug bites usually look like little red raised welts and are usually in clusters of 2, 3 or 4. Not everyone has a reaction to bed bug bites, so you may have come into contact with them and not notice any bites at all.

Large infestations of bed bugs are usually accompanied by a strong musty odor that some people have compared to the smell of cilantro or of over-ripened raspberries.

Shed bed bug skins are obvious in areas where bed bugs spend a lot of time. Because bed bugs shed their exoskeletons as they grow, bed bug skins may be scattered throughout an area where bed bugs have been active. These look like pale brown or translucent shells of bed bugs and are usually slightly smaller than an apple seed.
If you've noticed any of these signs of bed bugs while travelling or even after you return home from your holiday trip, there is a good probability that you've picked up bed bugs from somewhere. The professionals at Moyer Indoor | Outdoor know what to do if you have bed bugs; we recommend giving us a call for an immediate inspection. We can inspect your belongings before you get home or we can inspect your house, apartment or even your business. If you suspect bed bugs, this is not a problem you want to leave unaddressed; contact Moyer immediately for home pest control services to help you identify an infestation and eliminate it quickly. For more information on our bed bug control services, contact the pest control pros at Moyer in Souderton and throughout PA for pest control you can trust.