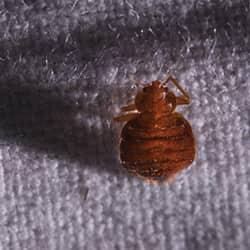 It's that time of year when West Chester residents begin looking forward to summer and its warmth, sunscreen, and school break. More time is spent outdoors, and more time is spent traveling. People visit friends and families, sightsee, and go on vacations. But, there is something that should be on a traveler's mind as we head out this summer; the risk of bed bugs.
Bed bugs are small, red parasitic pests. They feed on human blood and leave behind red bumps on the skin. Often, these welts, are the first sign you will notice. Bed bugs can infest homes, hotels, public transportation, and public places, such as movie theaters and libraries. Contrary to popular belief, a bed bug infestation can happen in the cleanest facilities; it does not have to be dirty. Bed bugs only need human blood as their food source to survive.
Traveling is a big contributor to the spread of bed bugs. They can also hide in second-hand furniture stores and flea markets. Since traveling is high on the priority list in the summer, we want to help arm your West Chester home against bed bug infestations. If you're planning on traveling or hosting visitors this summer, preventative steps are always important to protect yourself against these bugs. It's also important to keep in mind that you can contract a bed bug infestation without traveling or hosting visitors. The following prevention steps are for everyone:
When Traveling:
Keep clothes zipped up inside suitcases until needed.

Keep dirty clothes in a plastic bag until they can be washed.

Inspect the beds for any signs of bed bugs.

Keep suitcases and personal items up off the floor and store as high as possible.

Inspect yourself after being in the room.
When Returning Home:
Wash clothes immediately after taking them out of your suitcase.

Vacuum suitcases thoroughly.

Inspect yourself, and the seats of the car you were traveling in, for bed bugs.
Hosting guests:
Be sure to wash sheets and other bedclothes once they leave.

Vacuum frequently.

At any sign of bed bugs, contact a pest control service.
Don't hesitate to call Moyer Indoor | Outdoor if bed bug prevention steps fail. We know how important it is to eliminate an infestation as soon as possible. In most cases, we can be there on the same, or the following, day! You can trust us to make sure your bed bugs are completely eliminated. Don't let these bugs ruin your summer! Reach out today if pests have invaded your West Chester home.