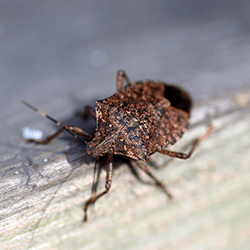 During the winter, stink bugs may have been overwintering. Some of these bugs may even have used your home to overwinter within. Now that West Chester is seeing some warmer weather, these bugs will become much more active, including the ones in your home already. If they have not already entered your home, the increase of activity will naturally increase the risk of them doing so, so it is time to be on the lookout. Stink bugs can be quite a nuisance for a homeowner, and getting rid of them is very important. Let's take a look at the problems stink bugs cause, how you can prevent them, and what you can do if your home has become infested with them.
Stink bugs, although not dangerous to humans, are a very serious agricultural pest. Because of their preference of feeding on fruits, vegetables, and other crops, they can be detrimental to most harvests and can compromise foods that you already have in your home. Stink bugs also let out a very pungent smell when crushed or vacuumed up. The bigger the infestation, the more prominent this unpleasant smell can be.
Stink bugs can be a very hard pest to prevent and eradicate which is why opting for professional control is going to be your best option. Stink bugs are a year-round problem, seeking a place to overwinter in the fall and becoming much more active when it turns warm again. Stink bugs possess the ability to enter through some pretty tight places, often at ground or foundation level and in order to deter stink bugs you will want to patch up any cracks or crevices in foundations, around windows and doors, and in exterior walls. Installing door sweeps on exterior doors can also help for the ones who try and take the easy way in. You will also want to store trash in cans that have tight-fitting lids and try and keep compost piles away from your home. These are one pest you will need to stay on top of in order to get ahead, which is where professional control will benefit you most.
When it comes to stink bugs, most people will choose professional control in order to save time and money. Here is a look at how professional stink bug control can help you. First, a professional pest technician will identify the infestation and the conditions causing it. While they do so, they will also note potential access points that stink bugs may be using in order to get into your home. Once properly identified, our pest professionals can then come up with a plan, specific to your infestation, that will dramatically decrease the stink bug population on your property. We also offer year-round pest protection plans, and with 3 different options to choose from, the treatment can be tailored to you, your home, and your preferences. Each option includes multiple services per year, multiple pests, and a 100% satisfaction guarantee that states: If pests return in between visits, so will we, at no additional cost to you! We will also make sure to clean up old pests and use every available resource to prevent them from entering your home in the future! Here in West Chester, most people choose Moyer for the flexibility, thoroughness, effective treatments, and the more than 140 years of experience we bring to the table. If you have stink bugs, we can help and if you have an emergency, reach out today to ask about our emergency service. We look forward to keeping your home free of stink bugs!