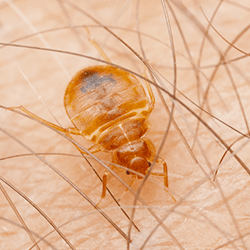 Bed bugs have a notoriously bad reputation and for good reason! They are highly-invasive, difficult to eliminate, and make it difficult to relax in our own homes! For all the reasons mentioned above and more, West Chester homeowners should take precautions against these pests to avoid inviting them into their homes. However, there are a few common mistakes that you may be making without realizing they could be attracting bed bugs to your home. To help you avoid bed bug infestations inside your Pennsylvania home, the bed bug control professionals at Moyer Pest Control want to provide you with some helpful information to help minimize your risk of a bed bug infestation!
Taking the steps now to make sure your home is as uninviting to bed bugs as possible is now more important than ever as the summer season is when bed bug populations are at their peak. During the summertime, there is an increase in both tourism and traveling, making it easy for bed bugs to hitchhike their way to and from new locations on a regular basis and, in turn, making this time of year the time of year when bed bugs thrive. To protect your West Chester home from bed bug infestations this season and throughout the rest of the year, our professionals want to cover some common mistakes that homeowners make that allow bed bugs to enter into their homes and infest:
Not knowing what bed bugs and the signs of their presence look like. Having a good understanding of what bed bugs and their signs look like is the key to being able to remove yourself from an environment where bed bugs are living. To learn what bed bugs look like, click here.
Leaving bags and other personal belongings on the floors of public places. It is never a good idea to leave personal items on the floor of any public place including places like libraries, movie theaters, airports, shopping centers, hospitals, and bus stations. Bed bugs can easily climb into any items that have been placed on the floor.
Not inspecting a hotel, motel or other room that you will be spending the night in for signs of bed bugs before bringing your luggage inside. Taking the time to inspect bedding, mattress, box springs, and linens inside of your hotel room for signs of bed bugs can help to prevent introducing them into your home when you return home from your trip.
Purchasing used mattresses, box springs, rugs, and furniture for your home. Buying some items used can work great, but buying the above items used puts you at a high risk of introducing bed bugs into your home. Always buy new mattresses, box springs, furniture, and rugs for your home.
Not washing clothing in hot water and/or vacuuming out and sanitizing suitcases immediately after returning home from a trip. If you happen to pick up a couple of bed bugs in your travels, immediately begin washing and drying clothing and bedding on high heat cycles and sanitizing suitcases and vacuuming them out before storing them can help to eliminate any bed bugs before they have the chance to invade your home.
If you do happen to discover bed bugs or even just what you think are bed bugs in your home, it is imperative that you contact a professional bed bug control expert immediately! Professionals have the knowledge, expertise, and modern solutions needed to solve any size bed bug infestation and to prevent a reinfestation from occurring. You can trust the West Chester pest professionals at Moyer Pest Control to offer you the bed bug inspections and treatments that are needed to provide effective and long-lasting relief from invasive, biting bed bugs. Contact today to learn more!