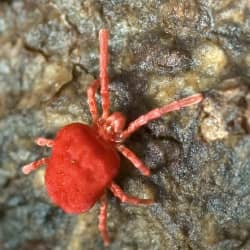 If you have not been formally introduced, those tiny red bugs that you're finding in or around your home are most likely clover mites. As a mite, you may expect that these little creatures will climb on you and chew your skin, but that is not the case. While they share a lot of commonalities with other mites, eating proteins isn't one of them. Don't let the red stains they leave when crushed scare you. That isn't blood. It is pigment from their bodies. Clover mites eat grasses, clover, and other plants. Not blood.

Okay. They don't bite humans. That is definitely good. But just because they don't bite doesn't mean they aren't dangerous. Right? After all, cockroaches don't bite, but they can cause significant health issues when they enter homes and businesses. Well, you can rest easy. Clover mites are not known to spread or carry infectious diseases. They are also not a pest known for carrying harmful bacteria from your trash cans to your stored foods or food prep surfaces.

Okay. So, they don't bite and they don't pose a health risk, but are they dangerous to my property? This is where the danger of the clover mite rears its ugly head. Clover mites are known to stain furnishings, curtains, and cloth items with their red pigments. If you value the items in your home, you're going to want to keep these tiny red bugs out. But getting rid of clover mites and keeping them out of a home can be extremely difficult. Here are a few reasons why:
Clover mites are small and hard to seal out.

They can get into wall voids and other places that are hard to get at and treat.

Mites are hard to control with any of the chemicals that are safe to use in a house.

DIY control of clover mites often leads to continued frustration and damaged belongings.
At Moyer Indoor | Outdoor, we use EPA-registered products to eradicate clover mites and exclude them from homes and businesses. These products are administered by licensed technicians with specific training in the habits and habitats of these pests, and our programs are overseen by industry experts.

Clover mites are also one of the many pests covered under our Exterior Guard, Platinum Home Guard, and Complete Home Guard service programs. When you want a pest-free environment, you can trust the team here at Moyer. We've been protecting homes, businesses, and municipalities since 1869. Find out what over a century of experience can do to fix your clover mite issue.