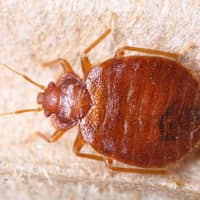 Are bed bugs my worry too? Well, if not, they should be. Bed bugs are making a comeback across the United States after nearly 50 years of relative obscurity, and one of the reasons may be that it is extremely hard to tell if you have come into contact with them. The notion that bed bugs can only be found in beds is not only inaccurate, but can cause you to let your guard down and harbor these tiny little pests.
It is true that a bed bugs favorite hang out is in a bed, but they actually can live anywhere in your home or business. They can hitch a ride inside of cars, RV's, trains, planes – you name it! And there is not a business that is 'safe' from the wrath of these tiny nuisances. So what is a person to do?
Be aware of your surroundings – especially when travelling. Inspecting for these unwanted creatures is the most important tool you have. Following these simple steps will help:

Inspect your hotel room before you open your bags

Pull back bedding near the head of the bed (the spare bed too!) and look for groups of black spots on the mattress (A sign of fecal stains from bed bugs!)

Check underneath mattress tags and around seams of mattresses and box springs

Check the back of the headboard – especially the screw holes where they can hide

Check the hotel closet using a flashlight before hanging clothes

Do not use hotel bureaus

Keep your shoes in the open rather than under the bed or in the closet

Unpack and wash your clothes immediately upon returning home

Unpack in a garage or mudroom – never in your bedroom

Inspect your suitcase using a flashlight
Also, be aware that the number one way bed bugs enter a home is through used furniture. If you must buy that sofa you saw at the yard sale, make sure to inspect it thoroughly for signs of infestation before you purchase it. Also, the old adage "It's too good to be true" certainly applies to any item that is 'free' or priced well below its appeared value. Be very wary of these 'deals' and inspect, inspect, inspect before you purchase.
How do you know if these creatures have found their way into your home?
Well, you have to know what they look like and the signs they leave behind. Bed bugs have three stages: eggs, nymph, and adult. The eggs and nymphs are whitish in color and too small to be seen, while the adults are reddish-brown and look like apple seeds on legs. They are only ¼ inch and nocturnal making them difficult to detect. The only outward signs are blood spots on your sheets, itchy bug bites on your skin, or black groups of spots on your mattress.
If you notice any of these signs in your home, call on a professional like Moyer to rid you of these unwanted visitors. Moyer Indoor | Outdoor is Pennsylvania's 'go to' pest control company because we are dedicated to the communities we serve; we are family owned and operated, which means we live and work where you do and have a vested interest in our community. Here at Moyer, we have over 140 years of dedicated service and experience. We offer a highly trained bed bug control staff including our K9 bed bug scent detection team, which saves time and money in the fight against bed bugs. Make sure to remove bed bugs from your worry checklist by partnering with Moyer today.