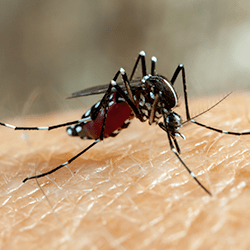 Mosquitoes, they are everywhere! They bite and buzz incessantly and with so many mosquitoes flying around, how can any home or business owner enjoy the outdoors?
If you were unprepared for this season's onslaught of mosquitoes and are now experiencing an overwhelming presence of them in your backyard or on your property, it's not too late. You can still get some last-minute preparations done in June to help reduce the population of these buzzing, biting, and potentially dangerous pests throughout the rest of mosquito season.
Most people are aware of the fact that mosquitoes can carry diseases around the world. Some of these viruses have made their way to Pennsylvania and can be harmful to both humans and pets. These viruses include equine encephalitis, chikungunya, and canine heartworm. The most dangerous virus that is hitting close to home is the West Nile virus. Taking measures to control the mosquito population around your home or business can help reduce the risk of these potentially dangerous diseases.
To avoid itchy bites and health risks this mosquito season, you should wear an insect repellent everytime you go outside. There are both regular and natural repellents that can be applied directly to your skin or your clothing. You should wear light-colored long-sleeved shirts and pants that do not stick to your skin. Avoid spending time outdoors in the early morning and at dusk, which is when mosquitoes are the most active. If you exercise outdoors regularly, you should do so during the daytime and when there is a nice breeze to help blow the mosquitoes away.
You can also reduce mosquito populations on your property by depriving them of one of the main things they need to reproduce and thrive: moisture. One way to accomplish this is to eliminate all sources of standing water where the female mosquitoes could lay their eggs. The most efficient and effective way to reduce a mosquito population, however, is by enlisting the help of a professional pest control company like Moyer Pest Control. We are aware of the specific pests that invade Pennsylvania and are able to handle many kinds of infestations, including mosquitoes.
We offer our mosquito services throughout the entire of mosquito season, which runs from May through October. Contact us today for more information about how our outdoor mosquito control treatment solutions work. We can help control and greatly reduce the mosquito population plaguing your property!