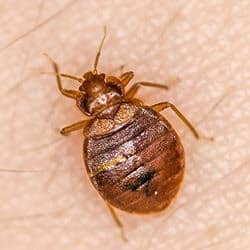 Will you be traveling for Christmas? If so, you may want to take a few seconds and read down through this quick list of places you might find bed bugs when you travel. It could save you from bringing these hitchhiking bugs back home with you.

You're sitting in an airline seat enjoying your complimentary pretzels and you notice a tiny red bug on your hand. When you bring it up close to your eyes, you realize that it isn't red at all. It is a transparent bug, and it is filled with your blood. Don't just squish it and move on with your trip. That is a bed bug.

You climb the stairs into the bus and shuffle down to where you'll be seated. As you push your bag into the overhead shelf, you look down and notice that there is black residue on the upholstered seat you'll be sitting in. When you take out your Smartphone and shine a light on the situation, you see that there are also insect parts stuck to that black residue. It is definitely time to find another seat, or another bus. That black residue was probably left by bed bugs.

You take the elevator up to the 5th floor, go down the long red-carpeted hallway and use your key card to get into your room. Once there, you put your bags on the floor in the bathroom and start doing a quick inspection of your room. You pull out the sheets around all the mattresses and inspect the seams with a tiny LED flashlight. It is a good thing you did. One of your mattresses has a patch of black with some dark brown blood staining around it. It is time to call hotel management.

You put your bags in the corner of your friend's guest room and search for a plug to charge your phone. When you find the outlet, you notice that there are black streaks on it. Hmmm. That's not good. Could your friend have bed bugs? After a quick search that doesn't reveal any signs of bed bug infestation, you ask about bed bugs. Sure enough, your friend had bed bugs in that room, but they got rid of them with some chemicals. You may not want to take their word on that one. Spraying for bed bugs often sends these pests into the walls to hide. You may want to ask to sleep on the couch.

You're packing your things in your bag to return home and you decide to do a quick inspection of all the seams. Tucked away in a seam near the bottom corner is a batch of tiny white eggs. It is a good thing you checked. You have bed bugs.

Don't let the bed bugs bite this Christmas. Learn to recognize bed bugs when you see them, and familiarize yourself with some simple inspection tips to prevent these bugs from coming home with you. If a bed bug infestation does take root in your home, call Moyer.
Serving West Chester, Telford, and Newtown Square as well as elsewhere in Pennsylvania, our bed bug control experts will make sure no bugs escape into your walls to bite you another day. Contact us today!