Pest Control For Birchrunville, PA
Birchrunville is a quiet community located just 40 miles west of Philadelphia in Chester County, PA. This town provides its residents with safe neighborhoods and homes which are located on beautiful wooded lots. It has a quaint downtown that is home to a well-known antique store. Birchrunville was created in a woodland area and provides its residents will plenty of outdoor space to enjoy, but the woodlands also provide ample living space for a wide variety of insects, spiders, and rodents to live as well. If precautions are not taken the pests living in Birchrunville's wooded areas may decide to live a more indoor lifestyle and invade your home or business. The pest professionals found at Moyer Pest Control want to help protect your property through our safe, effective, and affordable pest control services! Contact us today to find out why so many Pennsylvania residents trust Moyer Pest Control with all their pest control needs!
Residential Pest Control In Birchrunville, PA
At Moyer Pest Control we understand how upsetting it can be to discover that your home has been infested by pests. Whether ants, spiders, mice, earwigs, or another common household pest has made themselves at home, in your home, have the peace of mind to know that the professionals at Moyer have a fast, effective, and budget friendly solution. Our home pest control programs work to identify and eliminate current pest problems and then protect your Birchrunville home year-round from unwanted pests. From basic to completely comprehensive we have a residential pest control program for you!
Our most basic, but very effective program is our Exterior Home Guard program; it includes 4 service visits scheduled every other month in season. Our Complete Home Guard program includes 4 quarterly services per year- 3 exterior and 1 interior. Our most inclusive home pest control program, the Exterior Home Guard program, is our most comprehensive and best value; it includes 6 scheduled services every other month, along with services to protect your home from termites, mosquitoes, and stink bugs.
Contact us today to find out which of our home pest control programs will suit the needs of your Birchrunville home and family best!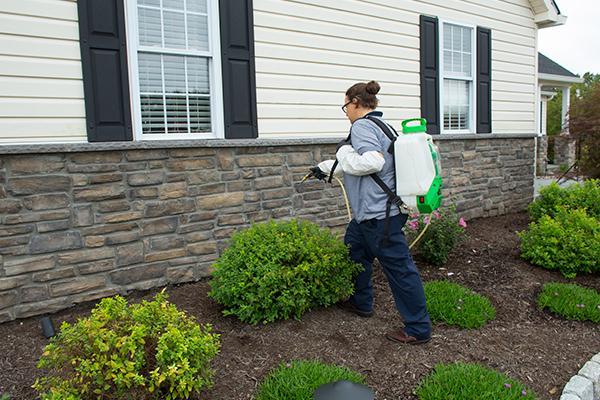 Commercial Pest Control In Birchrunville, PA
Making sure that your Birchrunville business is free of pests is tougher than it may seem, pests can get inside through small cracks and crevices in exterior walls, through spaces found underneath exterior doors, through open delivery doors, in the deliveries themselves, and can even be brought in by customers and employees. Having a professional who has the knowledge, know-how, and drive to keep your facility pest-free is the easiest way to ensure that your business becomes and stays pest-free and that you keep a competitive edge with your competition.
At Moyer we have experience providing commercial pest control services in many varying industries including the following:
Restaurants

Hotels and Motels

Retail

Healthcare Facilities

Food Processing Facilities

Pharmaceuticals
We believe in providing commercial pest control services that follow the Integrated Pest Management (IPM) method of pest control and prevention; ensuring that pests in and around your facility are eliminated in the most environmentally sound manner possible. Our commercial pest control services include the complete elimination of current pest problems, the safe application of chemicals in and around your facility on an as need basis, and implementing preventative measures to stop future problems with pests in your commercial facility.
To learn more about the many benefits of choosing Moyer Pest Control to take care of your commercial facility's pest control needs, call us today!
We're Ready To Help
Get started today! Schedule now or call for more information.
Bed Bug Treatments For Birchrunville, PA
Even with the resurgence of bed bugs in the last several decades being prominent in many news stories, many still believe that bed bugs are some sort of myth or something that they will never have to deal with. Well, unfortunately, bed bugs are found living and breeding across the country in public places like airports, hotels, motels, luxury resorts, libraries, movies theaters, shopping centers, and other similar places. There is a good chance that at one time or another you or a family member will come into contact with them and accidentally introduce them into your home or business.
At Moyer, we are committed to providing you with bed bug control services that meet the highest of service standards to ensure that your Birchrunville property becomes and stays bed bug-free! Our bed bug control services include the following:
A thorough and accurate inspection from our K-9 inspection team

Assessment of your specific bed bug infestation

The development of an effective treatment plan
Why Choose Moyer Pest Control In Birchrunville, PA
At Moyer, we are proud that we are able to offer a combination of the latest eco-friendly, most advanced pest control technologies and our tried-and-true methods that have been developed over decades of experience. We offer all of our customers the benefits of consistent, safe, effective, and affordable pest control services that are always performed by our friendly, professional, and highly trained technicians. Our customer's complete satisfaction is our number one goal, at Moyer Pest Control you can count on quality pest control services and exceptional customer service! Give us a call now and partner with us to control pests in and around your Birchrunville, PA property!