Professional Bed Bug Control For Homes And Businesses
Bed bugs are more than creatures to be avoided in a children's rhyme. While they are not known to spread disease, they do leave itchy welts on human skin, and infestations are on the rise from coast to coast. Bed bugs have become a major pest control problem for residential dwellings and commercial establishments in Pennsylvania. In recent months, pest control companies who used to receive one or two calls a year for bed bug treatments are now reporting one or two calls per week. Bed bugs are hardy. They can live for a year or more without eating and can withstand temperatures from nearly freezing to almost 113 degrees Fahrenheit. If left unaddressed, even a single bed bug has the potential to reproduce and become a major infestation. Lost sleep and increased stress are common side effects of these pests. An infestation can lead to a loss in revenue for hotels and other commercial facilities that rely on a spotless reputation.
Our Bed Bug Elimination Process
Homes and businesses need a fast, effective solution. Moyer Pest Control has several bed bug control solutions including conventional treatments, heat treatments, and the application of Aprehend®.
Our bed bug elimination process consists of the following steps:
Free Bed Bug Inspection
Our trained bed bug inspector performs a thorough bed bug inspection to verify the presence of bed bugs. We'll begin with the room you suspect of having bed bug activity, focusing especially on "hot spots" such as mattresses, headboards, and furniture. The inspection will move out from there, including other rooms, or the entire home, if necessary.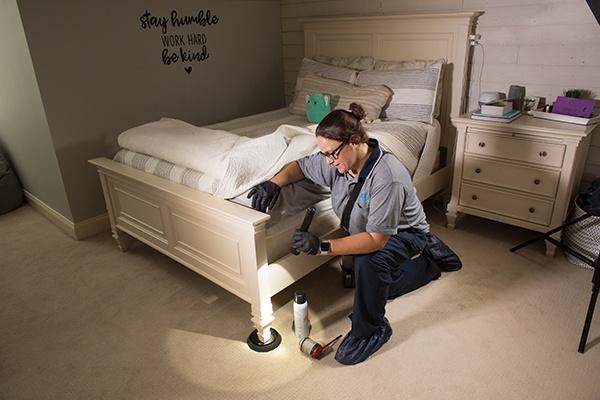 Bed Bug Treatment Plan Development
Based on the findings of the inspection, we work with you to come up with a bed bug treatment plan. The methods we use and the timeframe for treatments will depend on the degree of the infestation.
Initial Treatment for Low-Level Infestation: For low-level infestations, conventional products are used during the initial treatment. Follow up treatments are performed 14-21 days after the initial treatment and include the use of conventional products.

Initial Treatment for Medium-Level Infestation: For medium-level infestations, during the initial treatment, conventional products are used. Follow up treatments are performed 14-21 days after the initial treatment and include the use of conventional products and the application of Aprehend®.

Initial Treatment for High-Level Infestation: For high-level infestations, conventional products are used, followed by heat treatment. Follow up treatments are performed 14-21 days after the heat treatment and include an inspection and the application of Aprehend®.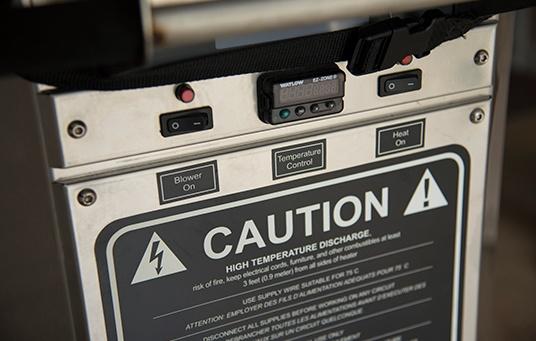 Bed Bug Heat Treatments
To effectively eliminate large-scale bed bug infestations, we offer professional thermal remediation treatments using specially designed equipment to heat your home or business to a high temperature (about 115°F) and effectively eliminate both adult bed bugs and bed bug eggs. This treatment takes about 6-8 hours to complete.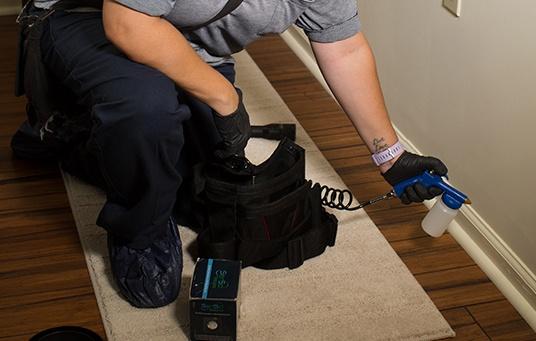 Conventional Treatments
To treat small to medium-sized bed bug infestations, we'll administer professional-grade insecticides and spot treatments in targeted areas around your home or business including mattresses, upholstered furniture, and other common hotspots for bed bug activity. After treatment, you will have to wait about 4 hours before you can re-enter your home or business.
Moyer's Bed Bug Warranty
At Moyer, we believe in providing high quality service. Your property may qualify for a bed bug warranty. Please contact us for details.
Bed Bug FAQ
How do I get rid of bed bugs?
Bed bugs are not drawn to filth or unsanitary conditions. They move from site to site in a number of ways, including inside luggage, clothing, or furniture. They can infest almost anywhere, from multi-family housing to apartments, hotels and even hospitals. You can easily pick up a bed bug or two while out and about and unwittingly bring it home with you.
How does heat kill bed bugs?
Bed bugs can live through some fairly extreme conditions, but once things heat up to a certain temperature, they're unable to survive. By heating your home above the temperature in which bed bugs can live, somewhere in the 115°F range, we can eliminate all the bed bugs in your home, even the ones hiding deep within walls.
Which is more effective, heat or conventional product?
The short answer is, it depends on the infestation. At Moyer, we like to take the approach that is most effective, but least invasive.
Conventional products are excellent at treating small to medium infestations. They are targeted and discreet, and you are usually able to re-enter your home a short time after treatment. Conventional product treatments are also cheaper than heat treatments.
On the other hand, heat treatments are usually best for large-scale infestations. Heat treatments are eco-friendly, kill bed bugs in all stages of development, and can reach even the most well-hidden bed bugs.
What do I need to do in order to get my home ready for a bed bug heat treatment?
Heat treatments require a bit of prep work on your part. You'll want to leave certain items in your home, such as bedding, to ensure they reap the benefits of the heat. Other items will need to be removed (for example, house plants) which would be damaged if left in the heat. You'll need to move furniture away from the walls, unplug electronic devices, and open doors and drawers. We'll provide a checklist before your heat treatment so you don't forget anything!
What is Aprehend® and how does it control bed bugs?
Aprehend® is a natural biopesticide that uses fungal spores to eliminate bed bugs. Safe for use around humans and pets, this product lasts for up to three months after application, making it the perfect product to use to prevent future infestations after you've eliminated your current one.
For more frequently asked questions about bed bugs, please visit our Bed Bug FAQ page.