Pest Control For Bangor, PA
Bangor is part of Northampton County and offers its residents a quick commute to the larger city of Allentown, PA. Bangor is part of the Pennsylvania Slate Belt and is naturally home to several slate quarries. This town has a quaint downtown with local businesses and restaurants lining its main street; its neighborhoods are made up of both attached "row homes" and unattached single homes.
Bangor is rich in history and many of its homes and buildings are older. While older properties come with a certain rustic charm, they also usually contain several cracks and crevices that can allow common Pennsylvania pests like ants, spiders, rodents, box elder bugs, stink bugs, bed bugs, and earwigs inside.
To protect your Bangor home or business, the pest control experts at Moyer Pest Control have developed general and targeted pest control services to eliminate common Bangor, PA pests from your property—guaranteed.
At Moyer, we provide our customers with a 100% satisfaction guarantee. If pests come back between scheduled visits, so will we, at no additional charge!
Get in touch with us today to learn more about our innovative, comprehensive, and highly effective pest control programs!
Residential Pest Control Services In Bangor, PA
To help protect the health of your family and the structure of your home choose a year-round pest control program from the Pennsylvania pest control experts at Moyer Pest Control. Each of our 3 pest control programs are designed to provide you with the professional services needed to eliminate current pests and prevent new pest activity from occurring.
Exterior Home Guard program includes 4 service visits every other month, in-season.

Complete Home Guard program includes 4 quarterly services per year, 3 exterior and 1 interior.

Platinum Home Guard program includes 6 scheduled services every other month in addition to services that control termites, mosquitoes, and stink bugs.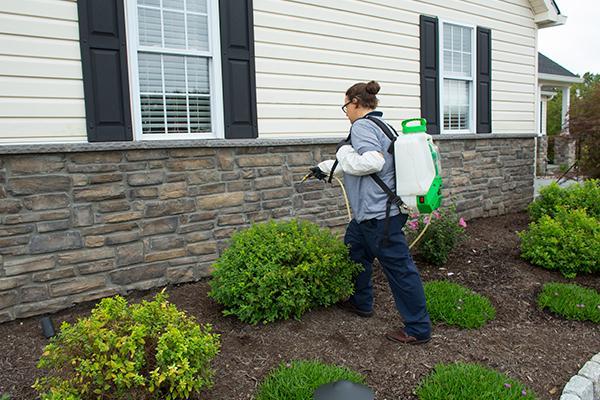 Our most inclusive program is our Platinum Home Guard program. This exceptional option offers customers six scheduled service visits that are performed every other month to target the pests that are specific to each season. Other benefits to choosing this program include:
Three visits inspecting the termite monitoring stations that have been placed around your home

Spider web & spider egg removal on each visit

Four seasonal mosquito & tick applications to targeted areas

One interior inspection geared toward prevention of invasive fall and winter pests pests while also checking for signs of termite activity

Interior treatments as needed

Vole monitoring and inspection every visit, along with treatment when needed
To learn more about our Platinum Home Guard program or any of our other year-round residential pest control programs, give us a call today!
How To Get Rid Of Bed Bugs In Bangor, PA
Bed bugs are notoriously difficult to eliminate once they get into a home; in fact, the only surefire way to completely rid your Bangor property of a bed bug infestation is to call a professional pest control expert.
Bed bugs are a very hearty and resilient pest, and it takes the experience and innovative technologies of a professional to ensure that every single adult, nymph, and egg has been eradicated from your home or business. If even a few bed bugs are left alive, rest assured that the problem will reappear - it's only a matter of time.
Don't ignore the problem and let the infestation get out of hand: contact Moyer Pest Control at the first sign of bed bugs living in your property. Our highly effective bed bug control services include a thorough and accurate inspection with the help of our K-9 inspection team, an assessment of your specific bed bug infestation, and the development of an effective treatment plan that is unique to your property.
To learn more about bed bugs and how we can eliminate them, get in touch with us today at Moyer Pest Control!
We're Ready To Help
Get started today! Schedule now or call for more information.
Commercial Pest Control Services In Bangor, PA
Don't let pests bring the safety, reliability, and professionalism of your Bangor-area business into question: keep pests out of your business for good by partnering with the commercial pest control experts at Moyer Pest Control. We have a vast amount of experience eliminating pest problems and preventing future pest issues in a wide range of businesses and industries including restaurants, lodging, hospitality, retail, healthcare, food processing, and pharmaceuticals.
In order to eliminate and control pests in commercial facilities, our professionals apply appropriate products in carefully measured amounts before implementing effective prevention measures to stop future pest activity. Other benefits to choosing our industry-leading commercial pest control programs include comprehensive reporting on problems we find and the steps taken to address them, access to our Centralized Scheduling/Pest Portal™ site Assistance, and the convenience of Saturday and after-hours services.
Help to protect your business's integrity with Moyer's commercial pest control services!
Earwig Prevention Tips For Bangor, PA Residents
Earwigs are a species of nuisance pest that typically enters homes and other buildings in the late fall when the weather outside starts turning colder, moving from outside where they have been feeding on the juices of trees and plants to gather in large numbers on the sunny side of buildings.
As the earwigs make their way up the side of the home or building, they will make their way inside through spaces found around exterior windows and doors, cracks in the exterior walls, and spaces found along the roofline. Once inside, they typically make themselves at home behind your home's walls, underneath its floors, and inside the attic or crawlspaces.
To help keep hundreds of these pests from invading your home, Moyer recommends the following earwig prevention tips to help you keep them away from your property:
Inspect the exterior and foundation of your home for any cracks or crevices earwigs could use to gain entry

Caulk any gaps that are found around exterior windows and doors

Fix or replace ripped screen windows and install door sweeps on all exterior doors

Trim back trees and bushes from the exterior walls of your home

Put a year-round comprehensive pest control program into place to stop earwigs and other pests from being able to breach the barrier of your home
For more information about earwigs, the problems they cause, and how Moyer can help keep your Bangor home earwig-free, contact us today for more information!