Cockroaches In Souderton
When cockroaches get into Souderton homes and businesses, they're not only disgusting, they can spread illness. It is actually startling how many ways they can make us sick. It is best to keep these insects out of your property, but this is easier said than done. Cockroaches are extremely difficult to control.
Wait. Hold on a second. Isn't this supposed to be a list of no-sweat cockroach prevention tips? Yes. But not quite the way you might think. You're going to have to roll your sleeves up to implement the tips we'll be giving you today. The no sweating part will come later. Why? Because one of the most important things you can do to reduce cockroaches is to address moisture and humidity. Let's take a look at how it works.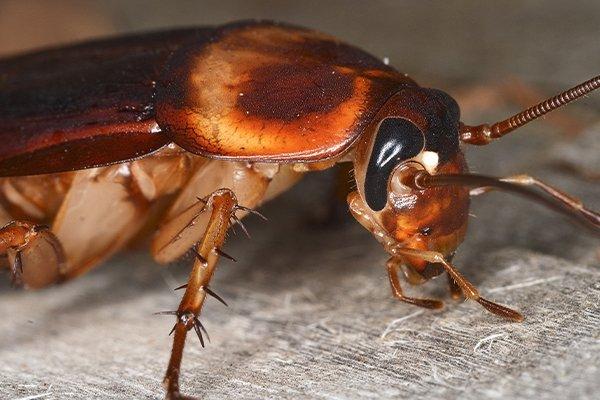 A Happy Cockroach Is A Sweaty Cockroach
First of all, cockroaches don't sweat. They don't deal with heat the way we do. They aren't warm-blooded creatures, but cold-blooded insects. What we mean by sweaty cockroaches is "wet" cockroaches. A cockroach is drawn to moist, damp conditions. Our first set of tips has to do with getting control of moisture around your home.
Have your gutter system cleaned, and have any damage to your gutter system repaired.

Remove leaf litter and leaf piles. These capture moisture underneath.

Move woodpiles away from your exterior walls.

Remove unwanted vegetation in your landscaping.

Water your plants in the early morning and let the sun dry the moisture up before nighttime.

Trim your bushes and shrub to allow for better airflow.

Fix any leaky pipes or hoses.
The Unwelcome Mat
If some cockroaches decide to explore your exterior, even though it is dry, they might see a crack or gap and get the wrong idea. Cockroaches are strongly attracted to tight spaces. Providing one for them is like saying, "Come on in!" Apply the following tips to reduce the number of potential entry points cockroaches can use to get in. Keep in mind that when you seal points of entry, it will help you keep the conditioned air inside your home—thus, making you sweat less. See how we tied that in?
Inspect exterior doors and seal gaps. Weather stripping, door sweeps, screens, and frames should be repaired if damaged.

Inspect exterior windows and seal any potential entry points.

Seal cracks in your foundation walls.

Seal gaps around pipes.

Install weep hole protectors if you have weep holes.
Ways To Keep Your Home Dry
High humidity can make cold days seem colder and hot days seem hotter. When you get control of humidity in your home, it can make the environment in your home more enjoyable for you and your family. As you start feeling more comfortable, cockroaches will start feeling uncomfortable. Addressing humidity and moisture is one of the best ways to get control of cockroaches without addressing potential food sources.
Install dehumidifiers, vents, and ventilation exhaust to your cellar, basement, or crawl space.

Install a dehumidifier in your boiler room.

Repair any leaking or weeping pipes.

Repair any leaking faucets.

Use your bathroom exhaust fan when taking a bath or shower.
Let's Talk About Food
Now that we've discussed the control of moisture, it is time to move away from our no-sweat tips and take a quick look at a few tips that have nothing to do with moisture.
Keep your kitchen floors and counters clean.

Deep clean, especially around your oven.

Remove your kitchen trash before smells develop.

Put your dirty dishes in soapy water.

Put pet food down only during mealtimes.

Vacuum your rugs routinely.

Consider keeping your stored foods in sealed containers.
The Easiest Way To Control Cockroaches
If you came here looking for a no-sweat way to get control of cockroaches, our suggestion is to contact Moyer Pest Control. It is a difficult task to do inspections, apply EPA-approved products, install cockroach monitoring devices, and track the success of a cockroach control program. When you have us take care of this for you, we do all the sweating.
Getting control of pests is a lot of hard work, and if you select the wrong products or apply them incorrectly, you can waste a lot of energy and money without getting the results you're looking for. Reach out to Moyer Pest Control to get the highest level of pest control and professionalism every time. We're standing by to assist you!